Experience the Power: A Closer Look at the Driving Dynamics of the 2023 Porsche Taycan
By Product Expert | Posted in Porsche Taycan on Tuesday, April 25th, 2023 at 9:46 am
What It's Like to Drive the 2023 Porsche Taycan?   
If you're a Porsche or electric cars fan, you've probably heard of the Taycan, the German automaker's first all-electric sports car. And if you're curious about what it's like to drive the latest version of the Taycan, the 2023 model, you're in luck. In this blog by Porsche of Delaware in Newark, DE, we'll share our impressions of this high-performance EV and what it is like to drive the 2023 Porsche Taycan.   
Acceleration and Handling
One of the impressive things about the Taycan is its acceleration. With up to 750 horsepower and instant torque, the Taycan can go from 0 to 60 mph in as little as 2.6 seconds, depending on the model and options. That's faster than most supercars and some fighter jets! But it's not just the raw speed that makes the Taycan thrilling to drive. It's also the way it handles the power.
Thanks to its all-wheel drive, low center of gravity, and advanced suspension, the Taycan feels planted and precise on the road. It corners like a sports car but with the added benefit of electric motors that adjust the torque distribution to each wheel in real time based on the driving conditions and the driver's inputs. This makes the Taycan fast but also agile and responsive, even in tight turns and sudden maneuvers.
---
Read More: Tech Features of the 2023 Porsche Taycan
---
Range and Charging
Of course, the other important aspect of any electric car is its range and charging capabilities. According to Porsche, the 2023 Taycan can travel up to 280 miles on a single charge, depending on the model and the driving style. That's a respectable number, considering the Taycan's performance and size. But how long does it take to charge the Taycan?
Again, it depends on several factors, such as the charging speed, the battery capacity, and the charger type. Porsche offers a range of charging options for the Taycan, from a standard 9.6 kW AC charger that can add about 31 miles per hour to a 270 kW DC fast charger that can add up to 62 miles of range in just 5 minutes or 80% in 22.5 minutes.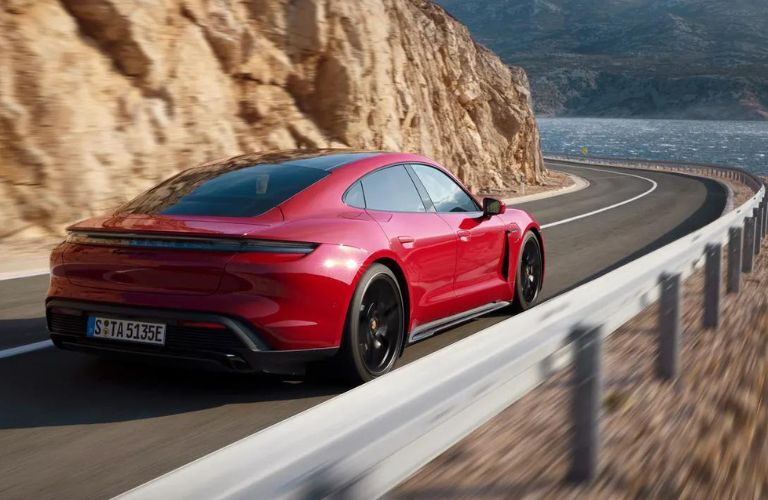 Test Drive the Vehicle Today!
Looking to get behind the wheel of a new Taycan? Swing by Porsche of Delaware in Newark, DE, and explore our inventory in person. Schedule a test drive today to truly experience the performance and luxury of this electric sports car.